How does it work ?
The underfloor heating is made up of pipes, a room thermostat and a module. This module, called a collector or a manifold, is the place where the water inlet and outlet is managed.
After being heated with the hot water heating system, the water is then distributed in different rooms of your house. In a classic non-thermostatic system, it was not possible to regulate the temperature, room by room. The water temperature was the same everywhere. It was therefore either too hot or too cold sometimes.
The thermostatically controlled underfloor heating is the only way to accurately control the temperature in each room. Each circuit is equipped with an actuator (or servomotor) which uses the thermostatic technology to adjust the temperature circulating under your feet, in real time. If you regulate your room thermostats in the hall to 22°C, you will always have 22°C, whatever may be the temperature outside.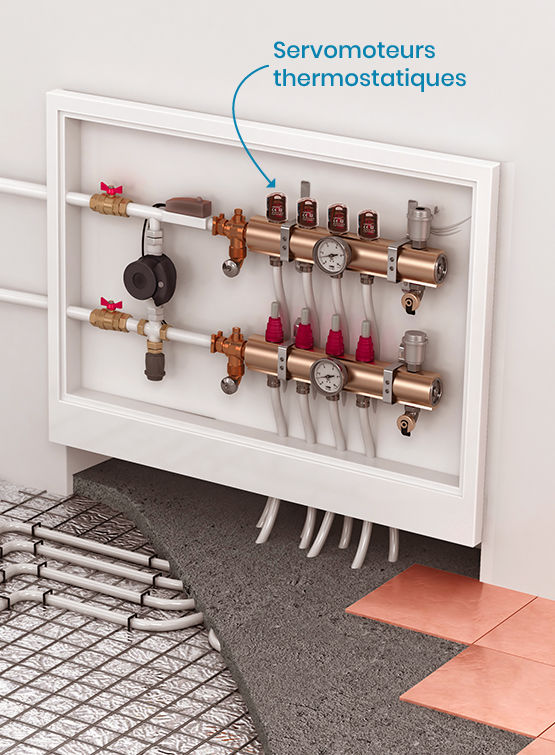 THERMOSTATIC UNDERFLOOR HEATING
A PROOF FOR

1. Its intelligence
Temperature control in each room and operating autonomy.

2. ITS ENERGY CONSUMPTION
Using thermostatic servomotors helps considerably reduce energy waste.

3. ITS PRICE
Installing a thermostatic is only a little more expensive than a classic installation, with a guaranteed return on investment.